Luminus and the Jane Goodall Institute Belgium partner up to plant more than 3.6 million trees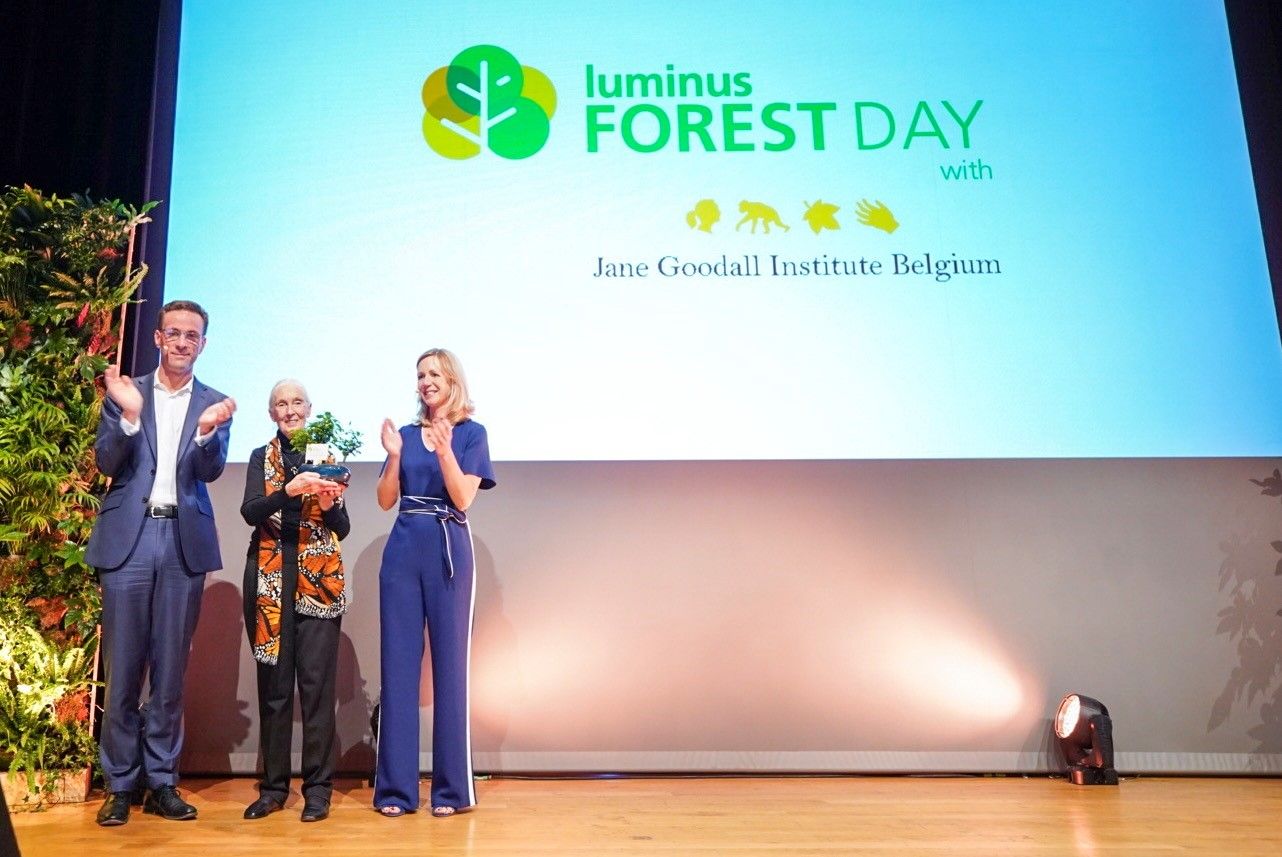 March 15, Dr. Jane Goodall, founder of the Jane Goodall Institute and Grégoire Dallemagne, CEO of Luminus announce a strategic partnership to make a cleaner greener Belgium and a positive difference in Africa.
Today, Luminus was honoured to receive Dr. Jane Goodall in Brussels where she delivered her inspiring speech "Reasons for Hope". Through almost 60 years of groundbreaking work, Dr. Goodall is best known for her study of social and family interactions of wild chimpanzees since she first went to Gombe Stream National Park, Tanzania in 1960. She has a long-standing commitment to the protection of biodiversity, supporting sustainable development and education. At nearly 85 years, she continues to travel the world more than 300 days a year to raise awareness to the environmental cause and mobilize by giving hope. Dr. Jane Goodall is United Nations Messenger of Peace.
In the last two editions of Forest in One Day, a yearly tree planting event organised by the Jane Goodall Institute Belgium and Bosgroep Limburg, the Luminus employees helped to plant over 6.500 trees. Objective was to create awareness around the importance of reforestation in the fight against climate change.
Today JGI Belgium, Luminus and Bosgroep Limburg want to take it a step further with a strategic partnership over a 3-year period. This cooperation will also be extended to other forest groups in Flanders and Wallonia. Each year 12,000 trees will be planted in Belgium by the Luminus employees and clients on three different locations. In addition to the trees planted in Belgium, JGI Belgium will plant an additional 1.200.000 trees/year in Africa, reducing the CO2-footprint with the equivalent of the average electricity consumption of some 50,000 households in Belgium*
"Through our planting actions we want to create awareness as trees help to reduce the carbon footprint in many ways, thus helping us to fight climate change," says Grégoire Dallemagne, CEO of Luminus. "The fight against climate change is an absolute priority for Luminus and we continue to expand our products and energy-efficiency services to help both our retail and professional customers reduce their CO2-footprint", Dallemagne adds.
"In Africa the impact of a tree is higher than in Europe as the trees convert CO2 all year round while providing shade, shelter, food for animals and humans as well as wood to avoid further deforestation" says Lise Grobbelaar, Executive Director of JGI Belgium. "Thanks to partners such as Luminus and Bosgroep Limburg and the involvement of their employees and customers, we are given the support to continue to bring Jane's dream of a sustainable future to life."
* As a tree matures, it can consume on average 22 kg of carbon dioxide per year.
About the Jane Goodall Institute
Founded in 1977 by renowned primatologist and conservationist Dr. Jane Goodall, the Jane Goodall Institute is a global nonprofit that empowers people to make a difference for all living things. JGI Belgium established in 2005 strives for respect and wellbeing of people, animals and the environment in Belgium & Africa. JGI Belgium today has around 70+ active volunteers and one executive director that work together to bring to life Jane's dream to live in harmony with nature.